Following our recent Net Zero Update, we have concluded our carbon footprint audit for 2022, measuring our carbon emissions and comparing it with our position in 2019 to bring us to our overall Co2 saving so far.
We are pleased to report that as a result of a number of energy efficient improvements and strategies, we have achieved a 31% carbon saving between 2019 and 2022 on a like for like basis.
Scope 1 & 2 Emissions (gas and electric) reduced from 1,840 tonnes of CO2 in 2019 to 1,269 tonnes in 2022 –  31% saving on a like for like basis.
Check out the breakdown below! 👇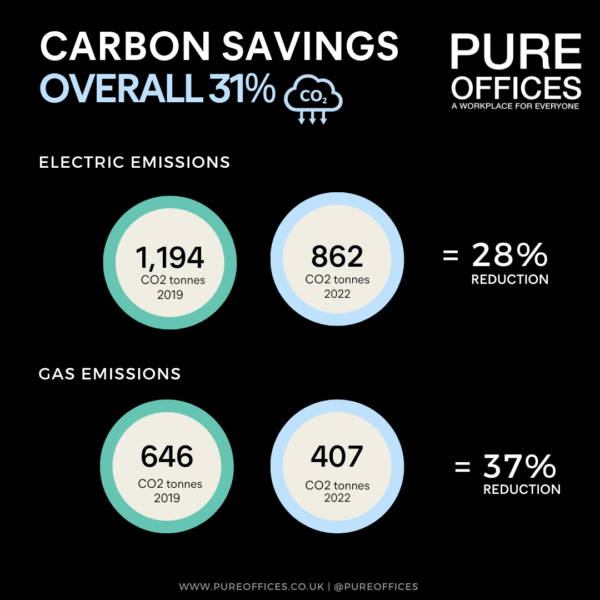 In 2022 our existing solar panel systems saved 134 tonnes of carbon that takes the total since installation to 1,900 tonnes.
In 2023 our journey to Nez Zero continues with solar installations underway at more of our buildings and continued upgrades to more energy efficient alternatives.
We are thrilled with our Co2 savings so far but we are raring to do more! – We have a view to be ahead of the game and become carbon neutral before the UK target of 2050.
As one of the UK's most forward-thinking serviced office providers. Pure Offices own and manage office space in over 20 major locations across the UK. Whether you're a start-up or global business, looking for a first home or a regional satellite office – our offices are flexible, affordable and designed with well-being in mind.
All offices are available on flexible contracts – equipped with ultra-fast broadband, 24/7 access and onsite management, with only 5 steps to take before moving day. Pure offices keep up with the demands of modern business and workplace expectations – the onsite teams and excellent ready-made facilities mean you can move in quickly and concentrate on your business, whilst we take care of the rest.