6 reasons why you should base your business at Pure Offices Nottingham.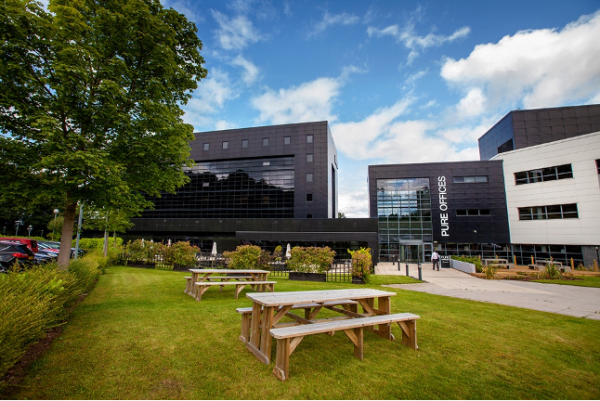 The location is great.
Pure Offices at Sherwood Business Park, Annesley, Nottingham is a unique purpose-built serviced office property, set on a stunning lakeside plot at the entrance to the Business Park. An excellent strategic location to base your business.
The centre is right next to the motorway, just 2 minutes off J27. 11 miles north of Nottingham City Centre and 8 miles south of Mansfield.
Sheffield to Pure Offices Nottingham – 41 mins
Leeds to Pure Offices Nottingham – 1hr 5 mins
Manchester to Pure Offices Nottingham – 1 hr 43 mins
Lincoln to Pure Offices Nottingham – 1hr 6mins
Leicester to Pure Offices Nottingham – 45 mins
Loughborough to Pure Offices Nottingham – 33 mins
With free parking, meeting rooms to hire and an on-site team – your visitors will always be welcomed into a professional environment, with a smile.
There's history:
Kodak were the originators of a business park at the location in the early 1990s. Planning was resisted initially but plans were agreed with sites in the Nottinghamshire coalfield being sought for Enterprise Zone status and £11m funding for infrastructure being allocated by the Urban Development Agency and English Partnerships. The site was to be a high-quality development with building designs closely monitored. Landscaping was extensive with wildlife areas and a sustainable surface water drainage system comprising five ponds.
Sherwood Business Park Enterprise Zone has been an extremely successful project of industrial and office development and was a flagship project for emda.  All developable land has been sold with receipts totalling £32m, job forecasts of 4500 have probably been exceeded by some margin.
You're in good company with the likes of Loreal, Eon & Prolog also occupying the Business Park.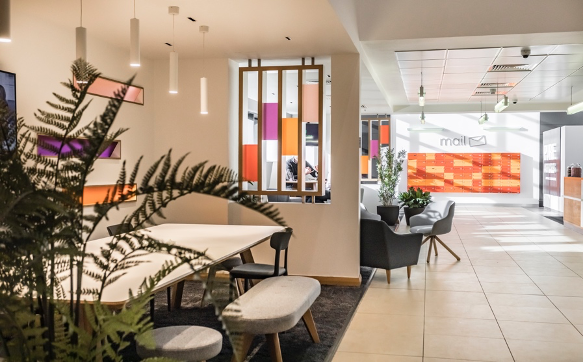 There's a Hotel, Bar & Grill right next door –
The Mour hotel is a 4-star boutique hotel situated right next door to Pure Offices. Designed by Amanda Rosa, the imposing building has an American loft feeling offering a quirky, yet luxurious place to meet, dine and sleep.
Every modern amenity has been thought of for the discerning traveller. A timeless sense of luxury marked by sophisticated ease and friendly yet discreet service, the Mour Bar & Grill the perfect place to visit.
Whether you're looking for Nottingham's best Afternoon Tea to enjoy on a rainy day, a private dining experience or a summer BBQ – they have it all.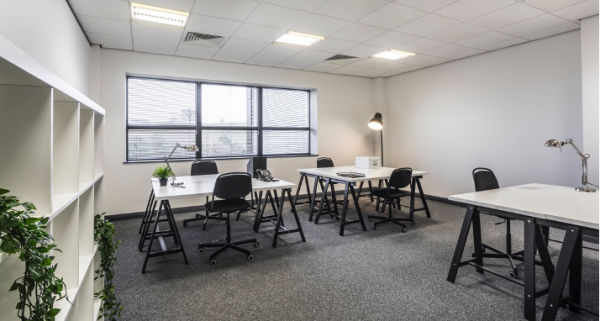 Enjoy the outdoors on your lunchbreak –
The Business Park, whilst a high technology enterprise zone, and set amongst ancient park and farmland, is complemented by many species of trees, plants, flowers, birds and mammals all thriving amongst its green living lungs.
The Pure Offices building is right by the lakes with stunning views and plenty of space to enjoy in the warmer months. Grab a picnic blanket from Reception, host your team meeting on the decking outside or choose one of the various walk/cycle routes on the business park, if you fancy getting your steps up at lunchtime.
You can go fishing –
Kodak Lakes are two drainage lakes adjacent to the now redeveloped former Kodak factory. The lakes offer very good fishing for anglers of all abilities. For younger or more inexperienced anglers the large amounts of small fish almost guarantee bites when fishing with maggot. There are, however, many Carp, Bream, Perch and the occasional Trench and Golden Orfe that can often take anglers by surprise.
The Lakes are very well maintained and Landscaped and although in the middle of the Sherwood Park are a very pleasant place to fish. The water is relatively shallow, and the banks are quite flat making them the ideal place to teach Junior Anglers.
Award winning restaurants & takeaways along with major shopping destinations nearby:
You might be right next to the motorway and surrounded by green, but you won't struggle to get a bite to eat or do a spot of shopping.
In addition to the food vans that attend site daily – there are a number of restaurants & takeaways in the surrounding areas:
Food within a 10-minute drive:
Dine in  / Takeaway
Retail spots only a 15-minute drive:
We hope this guide has opened your eyes to the perks of basing your business in Nottingham.
| | |
| --- | --- |
| | If you have fallen in love with Pure Offices Nottingham and would be interested in renting an office space here, contact our Centre Manager, Cassy Nichols to book a viewing. |