With Dragon's Den 20th Series kicking off last week, it's easy to say that the show has produced household names of their 'Dragon Investors' whilst investing in hundreds of startup businesses across the UK, making millions along the way.
The programme has stood the test of time with an ever-changing roll call of investors – Peter Jones is the only dragon still on the panel from the original line up and takes first place with an overwhelming portfolio of 41 investments, investing £2,080,666.67 throughout the first 18 seasons, according to an article by Somerset Live.
Series 19 aired in 2022 and welcomed its youngest Dragon yet, 28-year-old entrepreneur Steven Bartlett CEO of The Social Chain, Author of 'Happy Sexy Millionaire' and Host of the Diary of a CEO Podcast.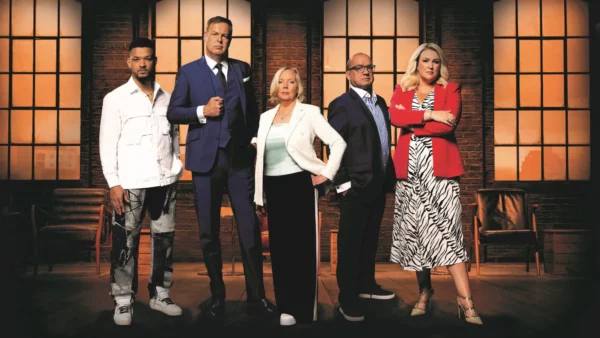 Dragons' Den Series 20: Steven Bartlett, Peter Jones, Deborah Meaden, Touker Suleyman, Sara Davies. Credit: BBC/Graeme Hunter/Caroline McDonald
Here we take a look at some success stories of the startup businesses that have received investment from The Dragons over the years:
RentRound: This online rental platform offers landlords a convenient way to rent their properties. After receiving funding from Dragons Den, the company has experienced significant success and expanded its office space across the UK.
Scratch Coding Club: This coding club aims to help children learn about coding and how to apply it to everyday life. They received an investment from Dragons Den which enabled them to open up office spaces in London, Birmingham and Manchester as well as expand their outreach program to even more schools and students across the country.
AppSquadz Technologies: This IT firm specialises in mobile app development and is headquartered in London but have opened offices around the world with the help of a Dragon's Den investment. Their focus on developing bespoke applications has helped many businesses reach their digital potential.
Yogbox Fitness: A successful fitness studio based in central London, Yogbox received investment from Dragons Den enabling them to expand their classes and offer innovative workouts that are not available elsewhere on the market, motivating people everywhere to get active and stay fit!
Perkbox: This London-based business, which provides rewards and perks for employees, successfully pitched their product on Dragons Den in 2017 and subsequently secured investment from Peter Jones. With the help of this investment, Perkbox has grown to be one of the leading companies providing employee rewards across the UK. They have also been recognised as an award-winning business and were awarded "Startup of the Year" by The Sunday Times SME Export Track 100.
Boost Juice: After a successful pitch to Dragons Den in 2019, this popular smoothie franchise received an offer of £200,000 from Deborah Meaden in exchange for 10% equity stake in the company. As a result of the funding they were able to open new stores, hire additional staff members, expand into new markets and acquire further financing through outside investors. Today Boost Juice is a household name across the UK with more than 20 stores nationwide and ambitious plans for future growth.
Elvie: Elvie is a small women-led tech startup that specialises in connected health products for women. After receiving investment from Dragons Den, they quickly developed their flagship product, an award-winning connected pelvic floor trainer, and successfully launched it in several countries. The company has grown significantly since their appearance on the show, gaining access to more capital to help expand their product portfolio and motivation to continue pushing boundaries in the field of women's health tech.
Nanno: Nanno is a mobile babysitting app that allows parents to quickly and easily book qualified, vetted sitters within minutes from their smartphones. They were able to raise funds from Dragons Den investors who were impressed with their revolutionary concept, giving them the financial resources to rapidly grow and expand their platform. This success has made Nanno one of the leading providers of reliable and secure childcare services in the United Kingdom. 
Messly: Messly is a healthcare service connecting patients with primary care professionals for digital appointments and video consultations across the UK. After getting funded by Dragons Den investors, they had access to capital needed to further develop their platform as well as motivated staff ready to get it up and running on multiple devices including desktops, tablets, mobiles and wearables. Their innovative solution makes medical care much more accessible while improving patient outcomes.
FarmTable Foods: FarmTable Foods is a fast-growing online retailer specialising in ethically sourced groceries and organic foods from independent farms around the UK, supplying directly to homes nationwide through their website or apps. After being featured on Dragon's Den, they secured additional funds from both angel investors and viewers at home which gave them the capacity needed to purchase large amounts of produce from independent suppliers which would normally be inaccessible for smaller retailers such as themselves
A great line up of success stories from the show. We're looking forward to tuning in to this weeks episode.
___________________________________________________________________________________
As one of the UK's most forward-thinking serviced office providers. Pure Offices own and manage office space in over 20 major locations across the UK. Whether you're a startup business, global corporate, looking for a first home or a regional satellite office – our offices are flexible, affordable and designed with well-being in mind.
All offices are available on flexible contracts – equipped with ultra-fast broadband, 24/7 access and onsite management, with only 5 steps to take before moving day. Pure offices keep up with the demands of modern business and workplace expectations – the onsite teams and excellent ready-made facilities mean you can move in quickly and concentrate on your business, whilst we take care of the rest.