Meet Maria Trevis – Occupier Q&A
There's no question that the pandemic shook up the traditional office concept which, combined with the digital revolution, has probably changed the way we work forever. Now that the dust has settled, for some businesses the decision to 'move home' is being reconsidered as both employees and clients begin to crave in person communication and the social interaction that the workplace delivers.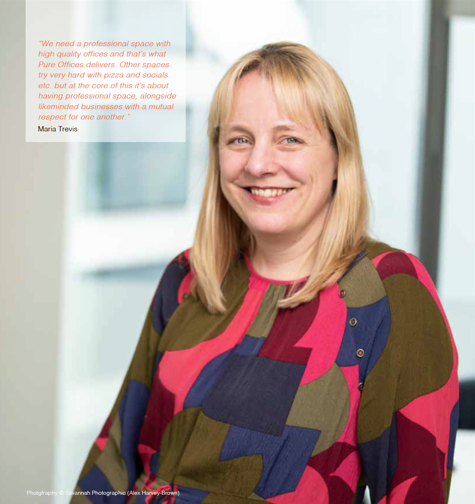 Having started the business in 2015 and moved into Pure Offices Reading in May 2019, Specialist Accounting Solutions Ltd took the decision to 'go virtual' in Autumn 2020. But now, two years on, they're heading back to The Blade. Maria Trevis, Head of Business Development at Specialist Accounting Solutions talks us through their decision process.
Hi Maria. Let's begin with the business, tell us about Specialist Accounting Solutions.
We're a firm of Chartered Accountants working with ambitious entrepreneurs and management teams who need specialist accountancy support to achieve their goals. The business was founded in 2015 by Sean Hackemann, who has been a Chartered Accountant for over 15 years and has extensive experience in leading finance departments of SMEs and corporate finance. Sean and the rest of 'Team SAS' provide a range of services across advisory and financial outsourcing. We often work with companies located in and around the Thames Valley and the Home Counties. Many of our clients are in the tech, retail and service sectors.
Tell us about your Pure Offices journey
Sean started the business in 2015, and by 2019 we were a team of three and a number of associates who worked remotely. Because we were collaborating and needed space to work together and to meet with clients, we decided to look for some office space. As you would expect, we looked around and visited a number of shared workspace providers considering the value for money, accessibility, community, flexibility and space availability. When we visited Pure Offices at The Blade, we were particularly taken with how helpful and supportive Nicola, the Centre Manager, was. We knew we were growing and so the ability to scale up in a single location was really appealing. Because we were recruiting and building our client base we knew that being located in The Blade would be part of the draw. At the time we were a smaller firm but being located in such an iconic building helped reinforce our professional persona and really appealed to our clients. It's also readily accessible, making it easy for both staff and clients to find us – you can't really miss The Blade.
But then Covid hit…
Yes, and probably like most people at the time we thought it would be a short sharp relocation home and then we'd be back to normal. We held on to the office until Autumn 2020 before we sat down with Nicola and chatted through the options. She was a real star and has been really supportive. We decided to 'go virtual' and therefore continue to name Pure as our contact point but not have any physical space. Nicola helped us transition and made it clear that we could come back at any time. We continued to use the meeting rooms at Pure when that became permissible again and so most clients wouldn't have noticed any difference.
And now you're back, is that correct?
Yes, we've just recruited again and so we moved back to Pure Offices and back to The Blade in September. We've even taken larger offices than we had previously. We decided the time was right to return and we're really pleased to be back.
What is it about Pure Offices that you like and what has brought you back?
We looked at plenty of options back in 2019 and I don't mind sharing that we did a quick dip test of the local market before making the decision to return now. None are as good as Pure Offices at The Blade. Yes, there's lots of 'razzle dazzle' at some of these other co-working spaces, but we found they were simply not conducive to the work we do. We need a professional space with high quality offices and that's what Pure Offices delivers. The team at Pure really respect everyone, even referring to their clients as occupiers, not tenants. Other spaces try very hard with pizza and socials etc. but at the core it's about having professional space, alongside likeminded businesses with mutual respect for one another. The help and support shown by Nicola throughout our time is also a factor. She's looked after us and Pure have been incredibly flexible and willing to adapt to our needs.
For more information on any of our Pure Offices centres, get in touch with our friendly team, who will be happy to help.