Every month, we shine the spotlight on a member of our team to give you an insight into our people and culture.
At the start of the year we grabbed a coffee with Leeds-based Centre Manager, Michael Murray. In early March we caught up with Claire Hamblett, Assistant Centre Manager at our centre in Gloucester. Here's what we discovered…
Hi Claire! Have you always worked in the serviced office industry?
I haven't, actually. Before I started working for Pure Offices (around nine years ago), I worked for the Magistrates Court Service looking after the magistrate schedules, making sure there were the right number of magistrates for each court, that kind of thing, before going on a secondment in the Criminal Justice Board, taking minutes and arranging events for each of the Chief Officers of the Criminal Justice System.
So both were in administrative roles and although I've not always worked in the industry I've always been in the office environment. I have some event planning and front of house experience too, which is how I got into the role here at Pure Offices in Gloucester.
What does a typical work day look like for you?
If I'm the first one to arrive in the morning I open up, making sure all the gates and the reception are ready for the day. Grace, our centre assistant, also arrives first thing and we set up the meeting rooms. Then I sit down to respond to my emails.
I also manage a lot of the accounts side of things on behalf of the Gloucester team. I make sure all the billing is checked and done accurately to include the additional services we offer like the meeting rooms, postage and photocopying for the customers, to ensure they are invoiced correctly.
I also raise purchase orders so that when invoices come in, I can pass for payment.
Credit control is also a big part of what I do. A lot of our customers pay by direct debit which is brilliant, however there are a few that sometimes need reminding!
I've got an office next to the centre manager's and we're right next to reception, so we're always available for our customers to come and talk to us. I also assist the Centre Manager or cover when she's away, and this includes responding to any enquiries and following up with viewings. We always make sure the centre is always looking its best, everything is running smoothly and the customers and all the visitors to the centre are looked after.
How is Gloucester different from Pure Offices' other centres?
Like Portishead, we've got studios and workshops as well as office space. We've got two different sized studios and workshops as well as a variety of different sized offices in the main building. The first unit you see when you come in is a hairdressers. We've also got a dental surgery, lighting company, a South African produce shop, a cafe called The Wonky Sarnie, an electricians, a dog grooming studio, some engineering companies in the bigger units…the list goes on!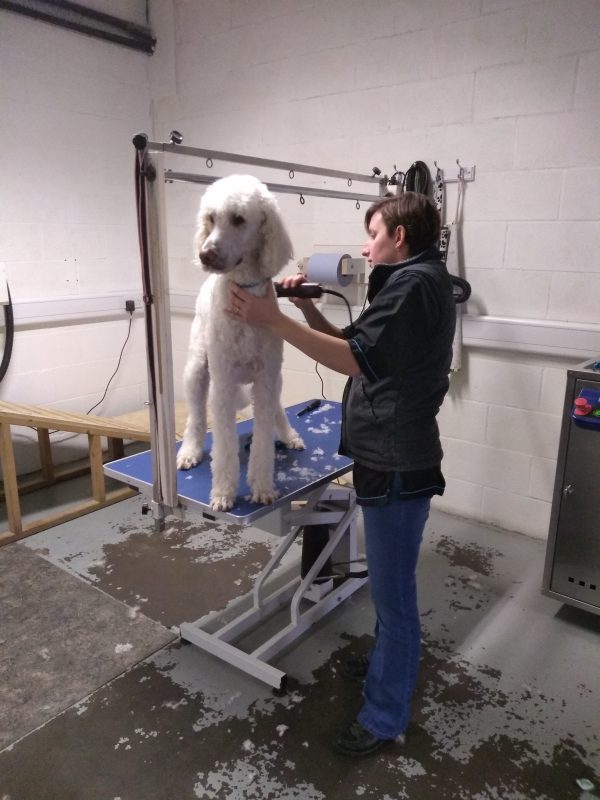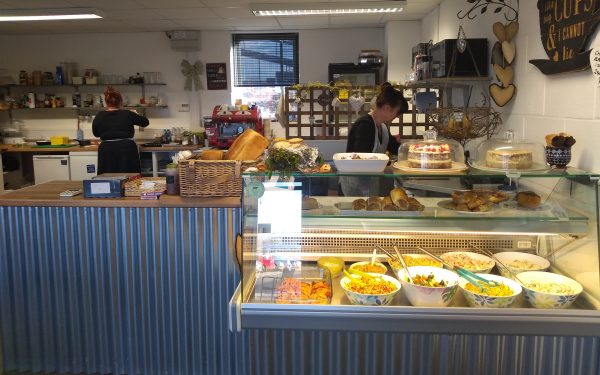 A dog grooming salon & The Wonky Sarnie at Pure Offices in Gloucester.
What do you like most about your role?
Interacting with the customers is what I like best. I also like showing potential customers around and if they decide to move in, making their journey as easy as possible. Seeing that all the way through is so rewarding. We've also set up some showrooms in the empty offices which was a fun process.
This year I've started to cover other centres like Cheltenham and have really enjoyed meeting the customers there too.  I'm looking forward to visiting other centres in the region too, Oxford and Swindon perhaps..
Can you tell us a bit more about the showrooms you've been working on?
Our showrooms are designed to model the offices to help potential customers visualise what they look like when in use. We've got a larger 455 sq ft with an integral office and a 230 sq ft office that are currently vacant so we've set  them up as showrooms. For example, the smaller one in the picture below shows that you can fit three or four desks in there comfortably. We've put some plants in the window to dress it up and create a bit of an atmosphere, as well as some pictures showing the different layouts that could be achieved.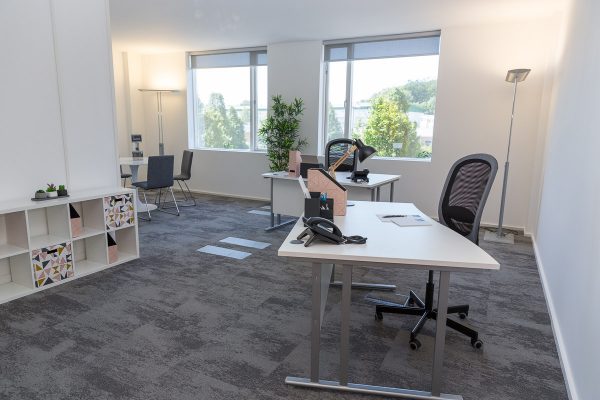 Show Suite demonstrating what they look like when occupied.
Why should a company looking for a workspace in Gloucester choose Pure Offices?
It's a contemporary space with a difference.
Gloucester's unique mix of offices, studios and workshops attracts a variety of businesses. We're lucky to have access amenities such as the on-site cafe and hairdressers – it's handy for us and for our customers.
Another good thing about our centre is that we take a lot of pride in looking after it; we're always trying to keep it looking at its best. Although we're not in the centre of Gloucester we're very close to the motorway, so it's a great location in that respect.
We also have a range of facilities for communal use, such as meeting rooms, photocopiers and a franking machine. It's great If you run a small business and you don't have these facilities, you can just use ours. We've got a super-fast internet connection and simple licence agreements with no long-term commitments.
We also run regular events that bring our community together. We like to do things for charity: the cake sales always go down well and it gives our customers the opportunity to talk even more. A lot of them chat to each other in the kitchens and corridors but it's always nice to have a bit of time dedicated to socialising.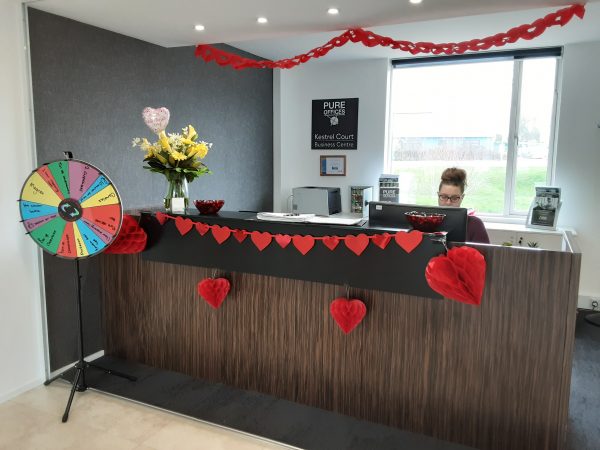 Valentine's Day at reception in Gloucester.
Finally, what do you get up to when you're not at work?
I've got a Cockerpoo who's absolutely gorgeous! I work 'until 1 o'clock and always sort him out first with a walk when I get home. I'm also a member of a fitness club so I do a lot of swimming, spin classes and zumba. Travel is something I'm well known for too. The first thing our Ops Director Katie asks me is where I'm going on holiday next!
Our most recent trip was to Boston in the US. One of my daughters lives there at the moment – she's a primary school teacher but she's taken a year out to live in America. We're fans of the beach so we've been to places like Mauritius, Cuba, Seychelles, and Thailand. We like the faraway places but equally, when the children were young, our favourite place was Puerto Pollensa in Majorca.
My girls are really precious to me and I'm really proud of them. We're very close and we do a lot together!