Meet Arlene Reid & David Fraser, Directors of Clear Taxation –
Pure Offices Client Spotlight 
This month we caught up with Arlene Reid and David Fraser, Directors of Clear Taxation – a firm specialising in US and UK tax and wealth management. Arlene and David moved into our brand new Edinburgh Park centre when it opened in October 2020.
Curious to find out how they're getting on for our latest Pure Offices Client Spotlight Blog, we spoke about their experience of the centre so far, how their business is faring and their exciting plans to take part in the Kickstart Scheme.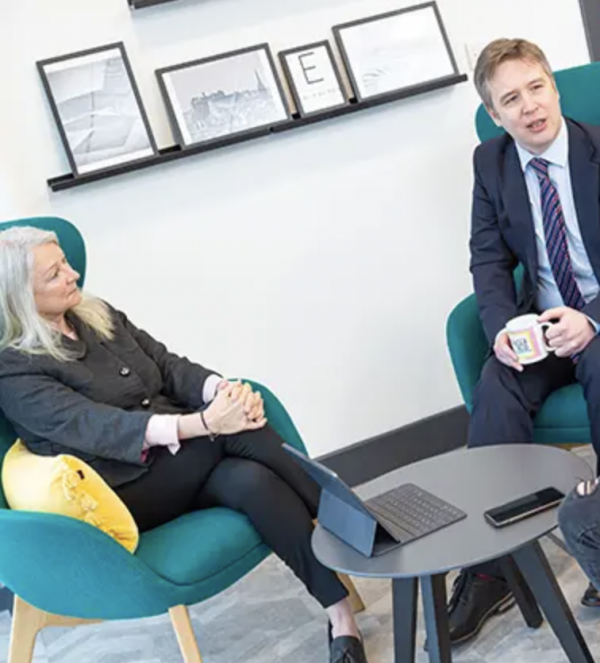 Pure Offices: Hi both! So, how are you finding our shiny new centre in Edinburgh Park?
Arlene: It's been fantastic. We've got superfast broadband, which we didn't have when we were working in the centre of Edinburgh because of the cobbles. And then there's the free parking – finding a spot in the centre of town was also an issue.
Our Centre Manager, Yolanda, has been fantastic. It feels as if we've come through this journey together with her because we all moved in at a similar time.
Pure Offices: Why did you choose Pure Offices over the competition?
David: We did look at some of Pure Offices' competitors but this place just ticked all the boxes. It's been finished to a really high spec and the views are great. It's perfect for us.
We thought we'd sign up for 12 months to start with and see how it goes. We've been here for five months now and still love it, and we think our team will too. Being at the new centre is also enabling us to grow – we've been onboarding new clients every day.
The superfast broadband is fuelling our conversions because we can connect with potential clients quickly over video call, which is way more effective than speaking over the phone. It gives people confidence in us and it definitely helps to have a nice office backdrop.
Pure Offices: Let's rewind a little. What inspired you to start your business?
David: Arlene and I used to work together at KPMG – she actually recruited me onto the team – and we stayed in touch over the years. We started Clear Taxation in 2007 and until recently we were a boutique private client firm specialising in UK and US taxes.
We launched the wealth management side of the business in 2020, and now we're able to provide the whole private client package.
For us, it's important that we're qualified to the highest level. We're chartered tax advisors in the UK and enrolled agents with the IRS. The high quality infrastructure, design and services at Pure Office also reflect our high standards.
Arlene: I started my tax career with HMRC then joined KPMG, where I met David, before leaving to work for a well known Edinburgh firm.
As David said, we kept in touch, and eventually decided that work is better if you work for yourself. Working for the big firms is great, but you don't have any control over how you do things. We specialise in UK and US tax which is a very niche area – there's not really anybody else doing what we do in Scotland.
Pure Offices: Can you tell us about your involvement in the Kickstart Scheme?
Arlene: Our values are really important to us and we've been focusing on them over the last few months. Now that we've got a great space, we're planning to take part in the Government's Kickstart Scheme.
We're looking to bring young people aged between 16 and 24 into the business, train them and give them a chance they otherwise wouldn't have in this climate.
David: In February the scheme's rules changed, allowing businesses to apply as an individual employer looking to recruit any number of people. We've applied for a few recruits, so fingers crossed we'll get them! We've both managed departments and are familiar with training people.
We've earmarked a couple of larger offices within the centre that we'd take on to accommodate any extra staff. As well as getting involved in the Kickstart Scheme, we're also looking to grow the wealth management side of the business over the coming months.
Arlene: The centre is a great location for someone starting their career. The tram stop is just outside the building, there's a train station and bus stop nearby, and the free parking, making it very accessible. We can reach the centre of Edinburgh in just 20 minutes.
As far as COVID safety is concerned, the space is cleaned regularly and it's very easy to socially distance here because it's so spacious.
---
As one of the UK's most forward-thinking serviced office providers. Pure Offices own and manage office space in over 20 major locations across the UK, with hundreds of businesses, of all shapes and sizes, occupying the centres. We pride ourselves on the communities within the centres and love to learn more about our clients and their respective industries in our regular Pure Offices Client Spotlight Q&A's.
Whether you're a start-up or global business, looking for a first home or a regional satellite office – our offices are flexible, affordable and designed with well-being in mind.
All offices are available on flexible contracts – equipped with ultra-fast broadband, 24/7 access and onsite management, with only 5 steps to take before moving day. Pure offices keep up with the demands of modern business and workplace expectations – the onsite teams and excellent ready-made facilities mean you can move in quickly and concentrate on your business, whilst we take care of the rest.