This month, we're shining the employee spotlight on Tony Reynolds, Pure Offices' Multi-site Maintenance Operative.
Although he's based at our Swindon centre, Tony's responsible for maintaining the majority of our buildings in the south of England. He joined us as an official member of the team in 2019, but has known Pure Offices for a lot longer…
Pure Offices: Hi Tony! Did you stop working during the pandemic?
Tony Reynolds: I continued working throughout the pandemic. A lot of the centre managers were working from home, so the buildings were vacant. I went round and performed their weekly checks – testing water temperatures, flushing toilets, running the sinks, etc.
Pure Offices: What does a typical work day look like for you?
Tony Reynolds: It goes from one end of the spectrum to the other! I do a variety of things, from painting and refurbishing the centres to the six-monthly fire door inspections. Pure Offices sent me on a course which I passed, so now I check most of the sites in the south.
I also move furniture, patch holes in walls, recarpeting offices and replacing taps in the kitchenettes. I sometimes come across a task that I haven't done before, and teach myself as I go along.
Pure Offices: Are you in charge of getting the offices ready for new occupiers?
Tony Reynolds: When a company moves out of an office, it's up to me to get the room back to how it was when they moved in. If the new occupier gets new furniture delivered they can notify the centre manager and we'll arrange a time for me to come in to build it.
Before…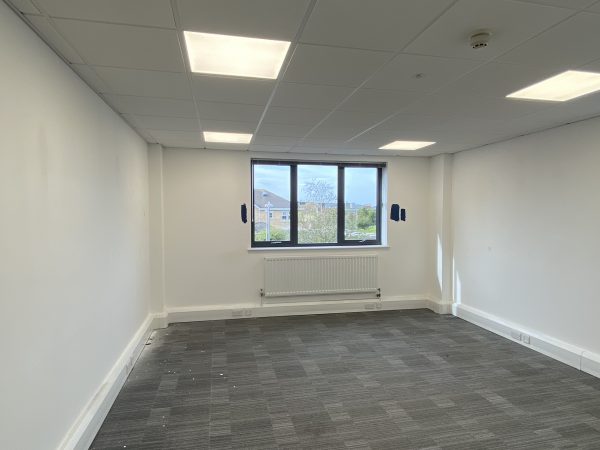 …After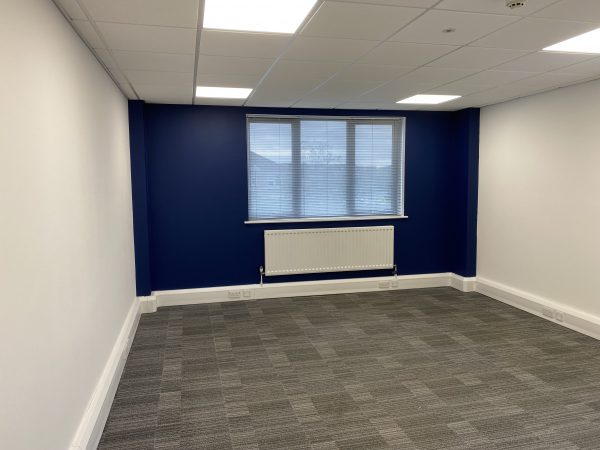 Pure Offices: Have you always worked in the serviced office sector?
Tony Reynolds: I left school early and went to work for my family's cleaning business. I was there for about 30 years and Pure Offices was one of our customers. My parents decided to sell the company but I continued working for it, and eventually it closed down.
The centre manager at Swindon at the time, said: "What am I going to do? I'll have no handyman!" I told her I'd be willing to start my own business and carry on working for Pure Offices, and that's how I became self-employed. I was working for some other companies as well, but my heart was with Pure. I became an employee in December 2019.
Pure Offices: What's Pure Offices like as an employer?
Tony Reynolds: Since joining, I've never looked back. They've always treated me fairly.  I also get on well with the occupiers. They're used to seeing me around now and will come out of their way and chat to me. It really is like one big happy family and I thoroughly enjoy my time here.
Pure Offices: How do you try to ensure you're working in a sustainable way?
Tony Reynolds: I recycle and upcycle things as much as possible. If an occupier is getting rid of furniture at the end of their contract, we'll offer it around to other occupiers first to see if they can make use of it. If not, we'll contact the scrap store and they'll upcycle it at their end.
Pure Offices: Have you got a favourite Pure Offices centre?
Tony Reynolds: They're all different! I'll always have a soft spot for Swindon because it's where I'm based and where I cut my teeth. If it wasn't for me working there in the early days, I wouldn't have been offered a job.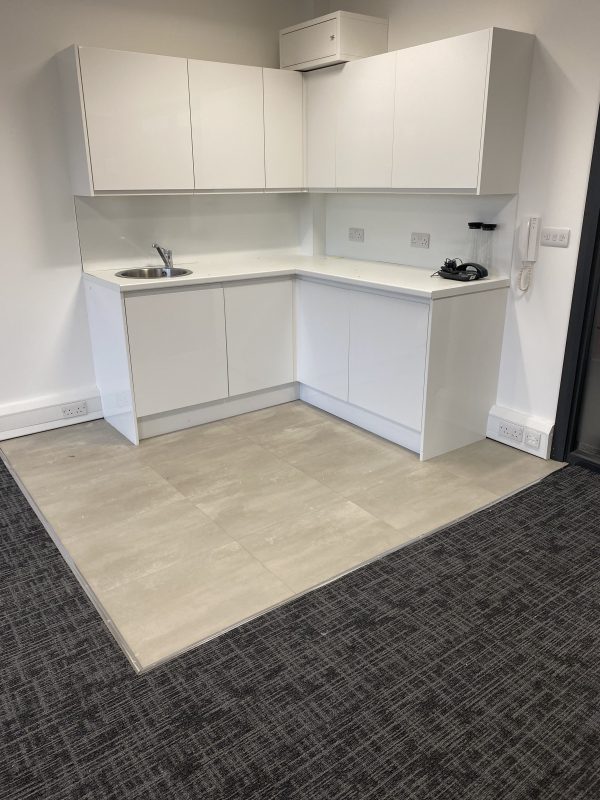 Caption: A kitchenette in one of the offices.
Pure Offices: Is there anything you like to do outside of work to unwind?
Tony Reynolds: I started walking about seven months ago and try to get as much as I can. My wife and I like to go away for long weekends – in fact, we recently got back from a trip to the Norfolk Broads. We'll go down to Bournemouth and walk along the beach, or Weston whenever the weather's good.
Pure Offices: What are some other interesting facts about you?
Tony Reynolds: I'm a member of the British Institution of Cleaning Sciences (MBICs). I also trained as an industrial abseiler. Abseiling was part of my previous job.
We used to do pest control, window cleaning, bird proofing, lightning conductor installations, netting on the side of motorways – and a lot of high level cleaning and maintenance!
Thanks to Tony for his time on this months' spotlight!