This month we caught up with Lee Fisher, Co-Founder & Managing Director of ZOME – an interior design e-retailer focusing on bespoke, beautiful products for your home. Lee founded the business in Summer 2020 and is based at our Leeds Thorpe Park centre.
Read on to find out why on earth anyone would start a business during a pandemic, the inspiration behind the name 'ZOME' and what's trending in interiors at the moment…
Lee is based at Leeds Thorpe Park – pop by and say hello!
Pure Offices: So, what prompted you to start a business in the middle of a pandemic?
Lee: Firstly, if I knew this was going to happen I'd have started the business eight months ago so that we could've taken advantage of all the online orders!
I've always been passionate about developing, designing and selling products and have worked with very large retailers in the UK in a buying or head of buying capacity.
My last role was Head of Buying for Upholstery at DFS. I bought all of the sofas for the UK, Spain and the Netherlands markets. Prior to that I worked for Homebase as Head of Buying in different categories and was Buying Manager for kitchens at MFI.
I've also worked for big retailers like Asda and Tesco.
Unfortunately, with Brexit around the corner and COVID, a lot of firms were looking at reducing headcount and senior management positions are some of the first to go.
I found myself out of a job and started applying for different roles. A lot of furniture and interiors buying positions are based up and down the country. I'm originally from Liverpool and lived down in London when I worked at MFI and Tesco, then moved to Milton Keynes to work for Homebase before relocating to Leeds to work for Asda and DFS.
It was looking likely that a new position would involve another move, which wasn't really viable. We moved my parents into our house three years ago and I've also got a four-and-a-half year old son who's just started school.
We'd also just renovated our house – an Art Deco property in Leeds – to enable my parents to have their own space.
A fantastic online furniture company based down south invited me to an interview, and as part of the final round I had to present on how I'd triple the business' revenue over the next three to five years. Once I'd finished I realised I'd just written my own business plan!
It just so happened that there were some torrential rains in July and we had a leak in our roof. We got our friend Steve – who is now also my business partner – to come give us his expert roofing advice. He didn't realise I was looking for work at the time. Anyway, we got talking and I discovered that he was on the lookout for an online business venture.
Buying furniture and interiors is very emotive: you can fall in love with a design and there's a lot of creativity involved in putting a range together. Steve's businesses are mainly construction-orientated and fulfil a need rather than a desire.
Although our specialisms are different, there's definitely synergy between the two.
He suggested that I could utilise his pool of people, as he's accumulated 30+ years' worth of contacts and employees with useful skill sets. And with my expertise from a product point of view, we realised we could make the business work together.
I've been on a steep learning curve over the past few months with the website, logistics and all the other things involved in starting a business. It's been a really interesting journey!
Pure Offices: What type of items do you sell on your website?
Lee: Having been in the industry for over 20 years I've got quite a lot of connections within furniture, lighting and accessories businesses and manufacturers.
We're building a curated range of unique products you wouldn't necessarily find at some of the high street retailers. The ultimate goal after establishing the initial ranges is to work with suppliers to develop our own unique ranges.
We sell lots of different furniture from sofas, beds, mattresses, coffee tables, bedside tables, and loads more. Please come and visit the website to see all the wonderful delights we have! Currently our focus has been on furniture, lighting and larger accessories such as rugs, but we'll be adding beautiful decorative accessories like vases and art in 2021.
Pure Offices: What do you like most about your Pure Offices HQ? 
Lee: It's a great place to host meetings: every time someone's visited they've always been really impressed with the offices. The parking facilities are great, the offices are contemporary and the building itself is very well-maintained.
The staff who work here are always friendly and accommodating which makes it a really lovely place to be. The location is a huge plus too. My home is only a 10-minute drive from here and the M1 is two seconds away, making it handy for visiting suppliers (and vice versa).
When we're back to 'normal' it'll be great to be able to take clients to one of the cafes or restaurants nearby to discuss business. The facilities within the office are fantastic but so are the facilities around it, making it the perfect choice.
Pure Offices: How important is it for you to meet suppliers face-to-face?
Lee: Although we've been using Zoom a lot more there have been occasions where we've had to visit suppliers in person.  It's very important for me as both a retailer and consumer that I'm happy with the products I'm listing.
We didn't want to launch products that we'd never seen; we want to be happy with the products on the website and be able to envision them in our own homes too.
To do that you have to see and feel a product. After all, it's so disappointing when the image doesn't match up to the reality. I didn't want that.
When the product arrives, I want the customer to love it and be excited. That's why I think it's important we see and feel it before it goes on the website. I'm passionate about making the purchasing experience the best it can be.
Pure Offices: What's trending at the moment in home interiors? 
Lee: Opulent and rich interiors are trending right now. Gold colours and real stones such as marble are being used on furniture and lighting. There's also a focus on velvet in sofa and bed design, especially in rich, luxurious jewel tones.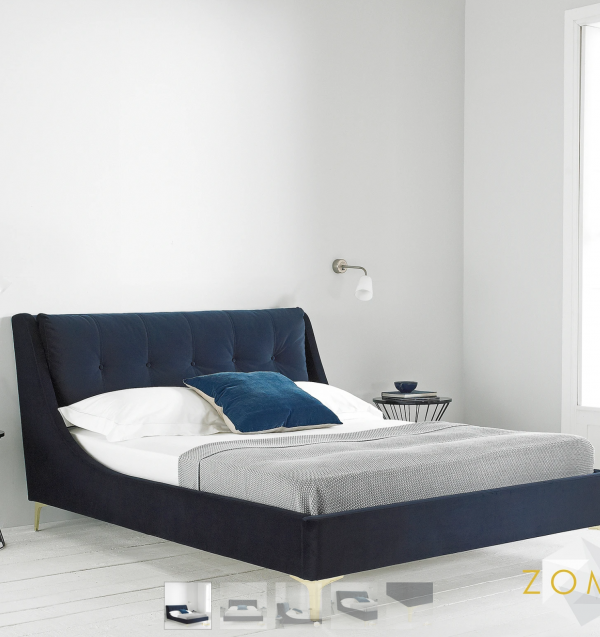 One of ZOME's best selling beds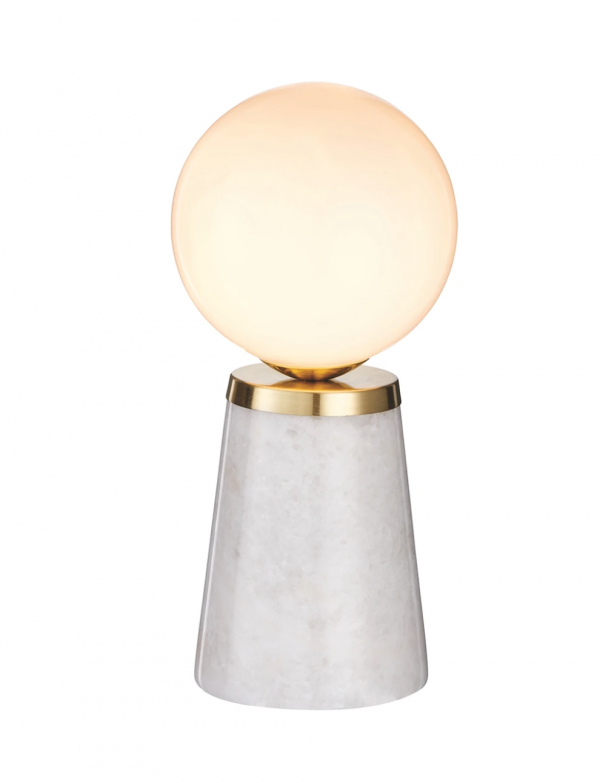 Globe Table Lamp – White, Marble & Brushed Gold
Lee: We're seeing marble accents in table lamps and marble furniture such as coffee tables. Brass and gold accents are featuring too. Interestingly, the things that are trending are all really tactile – you've got the coldness of the marble and the softness of the velvet.
Pure Offices: Finally, what are you doing in your spare time to stay motivated?
Lee: I've always been passionate about interiors, both inside and out of work. Over the lockdown we were doing some gardening; installing sleepers to create a bit of a wall for borders. We're always doing renovations and interior design.
As my son's four-and-a-half, playing games and making up stories seems to be quite popular in terms of my pastimes at the minute!
It's been lovely to spend a lot more time with him during lockdown, just simple things like taking him to school, picking him up and taking him to the park has been really wonderful.
The name of the business is actually a blend of my son's name, Zachary, and 'home'. My husband Joe and I were thinking about what to call the business and went through lots of iterations, before deciding on forming it from what means the most to us.
We then discovered that the word 'Zome' does in fact exist.
A 'zome' in the original sense is a building that uses unusual geometry and is different from the standard house. So in terms of us creating something unique for people's homes, the word Zome was just perfect!
Just in time for Christmas, ZOME is offering Pure members 10% off on orders over £100. To claim your discount, use the discount code PURE10 at the checkout.